Reviews
Bill continues to compete in races and his daily run. Bill has had his implant for approx. 5 years and couldn't be happier!
Very pleased with Dr. Burns. He performed a reverse shoulder arthroplasty on my right shoulder in April of this year. I chose him as my preferred surgeon based on reviews, my Primary Care physician's recommendation, and that he was captain of the West Point tennis team. That point was one which made me think that he would know a lot about shoulders, mine was a disaster area from years of racquetball. Dr. Burns has a pleasant demeanor, explained all details of the surgery and left the final decision to me.
- Healthgrades
- July 10, 2019
William L R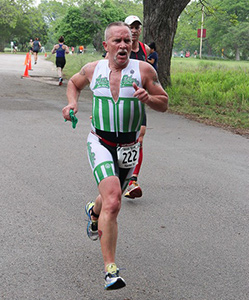 Dr Burns, I just want to give you a sincere salute an thank you for getting me back in the 'game'. Running, duathlons, and Triathlons have been my life for many years but pushing wheel barrels and extreme racing seemed to be getting the best of me. When it was suggested I get a knee replacement, it nearly put me in a stage of depression. When you told me you could help with a few options, 'hope' for returning to racing came back in full force. You told me – let it go and I can watch people race or consider a few options and I could be 'almost' as good as new. So, I googled many options and your suggestion and performance of a High Tibial Osteotomy coupled with the Arthrosurface implant was just what I needed. With your expert surgical process, recommended physical therapy, and continued follow up, I was back on my feet (and on my bike and in the water) in no time. My friends call me the bionic man now and are continually surprised and impressed with what I am doing. My humble brag is that, within in 1 year of the surgery at age 51, I was able to knock out a 6:09 mile and two miles in 13 minutes. I sure hope I don't need any more knee work, but if I do – you are the first one I will come looking for. I have many more years to compete thanks to you and your staff.

Note: The 4 action shots in green are from my triathlon, post surgery. Podium finish! Team USA photo is from the world championships in Spain before surgery (4th Place). Since surgery, I have qualified for 2 world championship races, Canada and Spain (no photos), but dang, it is great to be competitive again!
- June 20, 2019
Shareef Abdullah in Port Leyden, NY
You are an amazing surgeon who I had the prestige and honor of serving with especially during does unparalleled days of PGY-2 Fracture clinic! Take care.
- Healthgrades
- March 07, 2019
Jerry B. in San Antonio, TX
I am a nurse that works with many ortho surgeons in the OR and over the years of knowing him, I came to respect Dr. Burns for his operative technique, professionalism, attention to detail, bedside manner and how thorough he is. Several years after working with him, I had an accident and needed surgery on my knee. Out of all the surgeons I have worked with, he was the first one I thought to call upon.
- Healthgrades
- Feb 17, 2019
John C
Dr. Burns treated me like a person with a problem that could be solved but did not force me into a surgery. He provided me with the pros and cons of surgical correction and allowed me time to decided what would be the best course of action for my lifestyle.
- Aug 07, 2018
Linda McKnight
I had been in pain for 3 months. Saw him on a Monday and had my rotator cuff surgery Friday that very same week. He went out of his way to work me into his schedule. I was very pleased with the outcome.
- July 10, 2018
Ruth in San Antonio, TX
Dr Burns and his residents recently performed a reverse shoulder replacement on me. It is difficult to describe how wonderfully pleased I am with the outcome. They did a fabulous job. I have had minimal pain and a rapid recovery. Am ahead of schedule with range of motion and strength.
- May 15, 2018
Lila Dennis in San Angelo, Texas
I cannot praise Dr. Burns enough!! March 14 of this year I fell and fractured the femur on my left leg, and when I arrived at The Shannon West Texas Memorial Hospital, there was no Orthopedic Surgeon in or on call, due to spring break.
- April 26, 2018
John Taylor
A kind and friendly physician with a high level of trust by others in his department. Always willing to provide all information, even if it is not what someone wants to hear. No inflation of expectations.
- April 26, 2018
Mary Ann ruthrauff in San Antonio Texas
Honesty! Professionalism! Knowledge! This man has made my life so much better after performing Total Reverse Shoulder surgery. I can move my arm, lift things, sleep without pain. My pain after the surgery, which I really feared, was practically nil. The nerve block worked great, the suggestion for a pain ball was good and really helped keep the pain at bay. Thanks Dr Burns & assistants.
- April 03, 2018
Robert Howes in Garden Ridge, Texas
Unfortunately I have had multiple orthopaedic surgeries over the years. This last surgery, a shoulder replacement, went much better then any surgery I've had in the past. My shoulder, at 90 days, feels & acts like my original and is virtually pain free. I highly recommend Dr Burns to anyone needing orthopaedic surgery.
- March 07, 2018
Alejandro in Nader
Dr.Burns is someone who I would trust unconditionally with any surgery pertaining to his field. He has helped me out and has answered every single one of my questions.
- Feb 08, 2018
Schertz, TX
In my opinion, Dr. Burns is the best shoulder surgeon. He performed a total shoulder replacement on me, and 6 months later I had full mobility, strength, and best of all - no pain! I waited several months for him to return from a deployment so that he could perform my surgery. I was told that this was the "the shoulder guy" at SAMMC, and man were they right. I have complete trust in his ability, and highly recommend him.
- April 13, 2017
Letha Tanner in San Antonio, TX
My right shoulder had to have a reverse shoulder replacement . The care I received was beyond and better than I could have hoped for . Dr. Burns is the best , no doubt in my mind about that .
- March 09, 2017
I can't say enough good , Dr. Burns. I am 82 years old and broke my Femur, 6 weeks ago. Dr. Burns operated and put my leg back together. It has done well and I would recommend Dr. Burns.
Dr. Burns explained to me my condition and the best option that would give me a better life style. The Total Reverse Shoulder Operation that he performed was the best operation out of the last four that I have had on my shoulders my other doctors. The recovery time was great with less pain. I am finally able to do things again.
Over the past 3 years, Dr. Burns performed surgery to replace both my shoulder joints due to severe osteoarthritis. Both surgeries were extremely successful and without any complications. I have excellent range of motion and strength in both shoulders. Always professional, compassionate and gracious, I was completely impressed with his knowledge and surgical skill. I would not hesitate to recommend him to family and friends or anyone needing orthopedic care! He is a wonderful physician!!